ABOUT US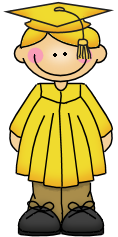 CURRICULUM & ACTIVITIES
Your child will participating in a wide variety of stimulating, educational and entertaining activities. These activities range from art, storytelling, exercises, science, music and much more. Some projects will be taken home to share with you and others are group activities your child will have tell you about.
Toddler U is now providing a MSDE approved curriculum.
DAILY SCHEDULE
| | |
| --- | --- |
| 7:15 a.m. | Center opens |
TODDLER UNIVERSITY (TU) COOKING
Toddler University serves two nutritious meals and two healthy snacks daily. Juice and milk served all day.
All meals and snacks are regulated by the Planning Council of Maryland.
SAMPLE MENU
| | | | | | |
| --- | --- | --- | --- | --- | --- |
| BREAKFAST | Waffles, Bananas & Milk | English Muffins, Milk, & Orange Juice | Cereal, Raisins & Milk | Bagel with Cheese, Orange Juice & Milk | French Toast Sticks-Milk |
| AM SNACK | Apple Juice & Goldfish | Cheese Crackers & Cranberry Juice | Animal Crackers & Milk | Breakfast Bar & Milk | Saltines Crackers & Cheese |
| LUNCH | Grilled Cheese, Grapes, Peas & Milk | Homemade Pizza & Crust, Carrots, Apple slices & Milk | Fish sticks, Mac & Cheese, Peaches & Milk | White Nuggets, Fruit cup, Green Beans & Milk | Hot dogs, Buns, Pickles, Applesauce & Milk |
| PM SNACK | Graham crackers & Milk | Yogurt & Fruit Cup | Carrots and Celery and Dip | Pretzels & Apple Juice | Oranges, Wheat crackers & Milk |
child care, childcare, daycare, day care, center, Owings Mills, 21117, Reisterstown, preschool, licensed, Maryland, preK, pre-K, toddler, school, center, family, family childcare, home, family child care, family day care, family daycare, learning center, child care, childcare, daycare, day care, center child care, childcare, daycare, day care, center, Owings Mills, 21117, Reisterstown, preschool, licensed, Maryland, preK, pre-K, toddler, school, center, family, family childcare, home, family child care, family day care, family daycare, learning center, child care, childcare, daycare, day care, center child care, childcare, daycare, day care, center, Owings Mills, 21117, Reisterstown, preschool, licensed, Maryland, preK, pre-K, toddler, school, center, family, family childcare, home, family child care, family day care, family daycare, learning center, child care, childcare, daycare, day care, center child care, childcare, daycare, day care, center, Owings Mills, 21117, Reisterstown, preschool, licensed, Maryland, preK, pre-K, toddler, school, center, family, family childcare, home, family child care, family day care, family daycare, learning center, child care, childcare, daycare, day care, center child care, childcare, daycare, day care, center, Owings Mills, 21117, Reisterstown, preschool, licensed, Maryland, preK, pre-K, toddler, school, center, family, family childcare, home, family child care, family day care, family daycare, learning center, child care, childcare, daycare, day care, center child care, childcare, daycare, day care, center, Owings Mills, 21117, Reisterstown, preschool, licensed, Maryland, preK, pre-K, toddler, school, center, family, family childcare, home, family child care, family day care, family daycare,learning center, child care, childcare, daycare, day care, center child care, childcare, daycare, day care, center, Owings Mills, 21117, Reisterstown, preschool, licensed, Maryland, preK, pre-K, toddler, school, center, family, family childcare, home, family child care, family day care, family daycare, learning center, child care, childcare, daycare, day care, center, child care, childcare, daycare, day care, center, Owings Mills, 21117, Reisterstown, preschool, licensed, Maryland, preK, pre-K, toddler, school, center, family, family childcare, home, family child care, family day care, family daycare,learning center, child care, childcare, daycare, day care, center, child care, childcare, daycare, day care, center, Owings Mills, 21117, Reisterstown, preschool, licensed, Maryland, preK, pre-K, toddler, school, center, family, family childcare, home, family child care, family day care, family daycare,learning center, child care, childcare, daycare, day care, center, child care, childcare, daycare, day care, center, Owings Mills, 21117, Reisterstown, preschool, licensed, Maryland, preK, pre-K, toddler, school, center, family, family childcare, home, family child care, family day care, family daycare, learning center, child care, childcare, daycare, day care, center, child care, childcare, daycare, day care, center, Owings Mills, 21117, Reisterstown, preschool, licensed, Maryland, preK, pre-K, toddler, school, center, family, family childcare, home, family child care, family day care, family daycare,learning center, child care, childcare, daycare, day care, center, child care, childcare, daycare, day care, center, Owings Mills, 21117, Reisterstown, preschool, licensed, Maryland, preK, pre-K, toddler, school, center, family, family childcare, home, family child care, family day care, family daycare,learning center, child care, childcare, daycare, day care, center, child care, childcare, daycare, day care, center, Owings Mills, 21117, Reisterstown, preschool, licensed, Maryland, preK, pre-K, toddler, school, center, family, family childcare, home, family child care, family day care, family daycare, learning center, child care, childcare, daycare, day care, center, child care, childcare, daycare, day care, center, Owings Mills, 21117, Reisterstown, preschool, licensed, Maryland, preK, pre-K, toddler, school, center, family, family childcare, home, family child care, family day care, family daycare, learning center, child care, childcare, daycare, day care, center, child care, childcare, daycare, day care, center, Owings Mills, 21117, Reisterstown, preschool, licensed, Maryland, preK, pre-K, toddler, school, center, family, family childcare, home, family child care, family day care, family daycare, learning center, child care, childcare, daycare, day care, center, child care, childcare, daycare, day care, center, Owings Mills, 21117, Reisterstown, preschool, licensed, Maryland, preK, pre-K, toddler, school, center, family, family childcare, home, family child care, family day care, family daycare, learning center, child care, childcare, daycare, day care, center, child care, childcare, daycare, day care, center, Owings Mills, 21117, Reisterstown, preschool, licensed, Maryland, preK, pre-K, toddler, school, center, family, family childcare, home, family child care, family day care, family daycare, learning center, child care, childcare, daycare, day care, center, child care, childcare, daycare, day care, center, Owings Mills, 21117, Reisterstown, preschool, licensed, Maryland, preK, pre-K, toddler, school, center, family, family childcare, home, family child care, family day care, family daycare, learning center, child care, childcare, daycare, day care, center, child care, childcare, daycare, day care, center, Owings Mills, 21117, Reisterstown, preschool, licensed, Maryland, preK, pre-K, toddler, school, center, family, family childcare, home, family child care, family day care, family daycare, learning center, child care, childcare, daycare, day care, center, child care, childcare, daycare, day care, center, Owings Mills, 21117, Reisterstown, preschool, licensed, Maryland, preK, pre-K, toddler, school, center, family, family childcare, home, family child care, family day care, family daycare, learning center, child care, childcare, daycare, day care, center, child care, childcare, daycare, day care, center, Owings Mills, 21117, Reisterstown, preschool, licensed, Maryland, preK, pre-K, toddler, school, center, family, family childcare, home, family child care, family day care, family daycare, learning center, child care, childcare, daycare, day care, center, child care, childcare, daycare, day care, center, Owings Mills, 21117, Reisterstown, preschool, licensed, Maryland, preK, pre-K, toddler, school, center, family, family childcare, home, family child care, family day care, family daycare, learning center, child care, childcare, daycare, day care, center, child care, childcare, daycare, day care, center, Owings Mills, 21117, Reisterstown, preschool, licensed, Maryland, preK, pre-K, toddler, school, center, family, family childcare, home, family child care, family day care, family daycare, learning center, child care, childcare, daycare, day care, center, child care, childcare, daycare, day care, center, Owings Mills, 21117, Reisterstown, preschool, licensed, Maryland, preK, pre-K, toddler, school, center, family, family childcare, home, family child care, family day care, family daycare, learning center, child care, childcare, daycare, day care, center, child care, childcare, daycare, day care, center, Owings Mills, 21117, Reisterstown, preschool, licensed, Maryland, preK, pre-K, toddler, school, center, family, family childcare, home, family child care, family day care, family daycare, learning center, child care, childcare, daycare, day care, center, child care, childcare, daycare, day care, center, Owings Mills, 21117, Reisterstown, preschool, licensed, Maryland, preK, pre-K, toddler, school, center, family, family childcare, home, family child care, family day care, family daycare, learning center, child care, childcare, daycare, day care, center, child care, childcare, daycare, day care, center, Owings Mills, 21117, Reisterstown, preschool, licensed, Maryland, preK, pre-K, toddler, school, center, family, family childcare, home, family child care, family day care, family daycare, learning center, child care, childcare, daycare, day care, center, child care, childcare, daycare, day care, center, Owings Mills, 21117, Reisterstown, preschool, licensed, Maryland, preK, pre-K, toddler, school, center, family, family childcare, home, family child care, family day care, family daycare, learning center, child care, childcare, daycare, day care, center, child care, childcare, daycare, day care, center, Owings Mills, 21117, Reisterstown, preschool, licensed, Maryland, preK, pre-K, toddler, school, center, family, family childcare, home, family child care, family day care, family daycare, learning center, child care, childcare, daycare, day care, center,
© Toddler University (TU), 2011 - 2019. All rights reserved. Site designed by Designs By Hollee